Brother strongly recommends that customers use only genuine Brother drum units
and/or toner cartridges. Each Brother laser printer is designed to work at
pre-set temperatures that are matched exactly to each of our individual toner
formulations.  Each individual component is designed to work with the other to
ensure quality and reliability. Using non-Brother supplies may affect the
hardware performance, print quality and machine reliability. The Brother limited
warranty does not apply to any problem that is caused by the use of third party
drum units, toner cartridges or toner.

1.
Did
you replace the toner cartridge with a NEW, out of the box, genuine Brother
toner cartridge (TN720, TN750, or TN780)?


NOTE: If
a toner cartridge from another machine was installed (even if there's still
toner left in the used cartridge), the message "Replace Toner" or "Toner Low"
would continue to appear on the display. To clear the message a new, genuine
Brother toner must be installed.

2.    Open
the front cover and remove the drum and toner assembly.



NOTE: We
recommend placing the toner and drum assembly on a piece of paper in case of
accidental spill or scatter toner.

3.    Remove
the gray toner cartridge from the black drum by holding down the green lock
lever on the right side of the drum unit and lifting the toner cartridge out.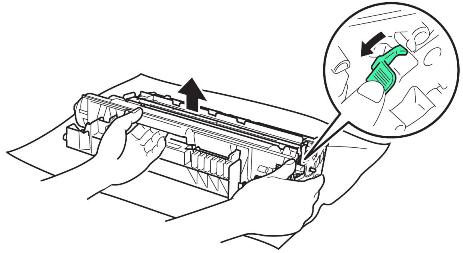 4.    Gently
rock the toner cartridge from side to side.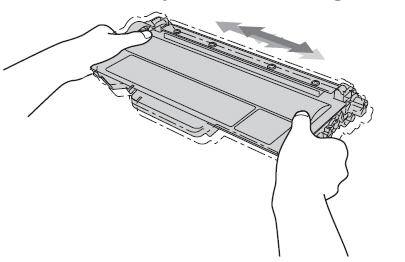 5.    Reinstall
the toner cartridge into the drum unit.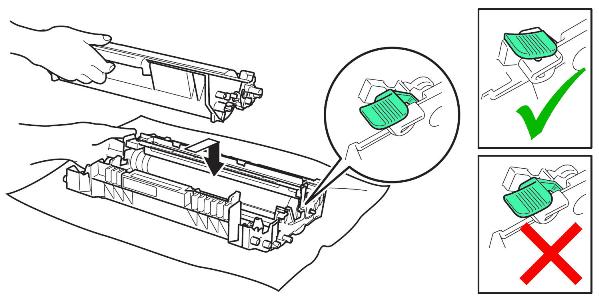 6.    Reinstall
the drum and toner assembly into the printer and close the front cover.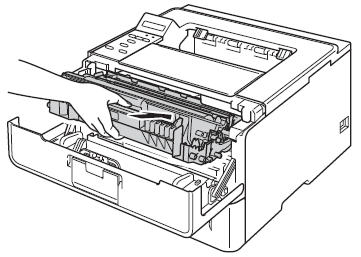 7.  If the error is not cleared, the
toner cartridge has reached the end of its life and will need to be replaced
with a new, unused genuine Brother TN720, TN750, or TN780.