crazyinkjets a specialist in the remanufactured printer cartridges field, offers an extensive
selection of black and color laser toner cartridges that are perfectly
compatible with laser printers under known brands including Hewlett-Packard.
crazyinkjets HP toner cartridges come with competitive prices and are
guaranteed to deliver high-quality output and come with specifications on par
with specifications of original brand printer cartridges.  And to include in
their extensive selection of replacement HP toner cartridges is the
remanufactured HP 312A Toner Cartridges that replaces toner parts in the HP  Color LaserJet Pro M476 Series printers including HP Color LaserJet Pro M476dn, HP Color
LaserJet Pro M476dw and HP Color LaserJet Pro M476nw.
crazyinkjets HP 312A Toner Cartridges Set of 4 ($ 218.00) is a package which
consists of HP CF380A black toner, HP CF381A cyan toner, HP CF382A yellow toner  and HP CF383A magenta toner. Our remanufactured laser toner cartridges are guaranteed to work with your HP  Color LaserJet Pro M476 printers. Each of these laser toner cartridges was fully disassembled and strictly rebuilt by professional technicians to make sure that they can deliver the highest quality prints. crazyinkjets is not the same with most
competitors that simply refill the toner cartridge and do not replace key
components such as wiper blades, OPC drums and electronic chip. We replace each
of these key components and parts that are found to be worn-out with new ones to
ensure that these laser toner cartridges will work well with your machine.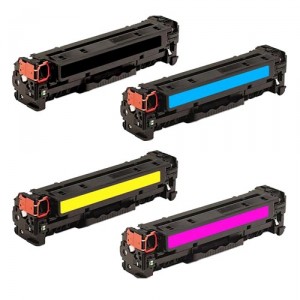 Details
Supported Cartridge(s): CF380A, CF381A, CF382A, CF383A
(HP 312A)
Color: Black, Cyan, Yellow, Magenta
Page Yield: 4,400 Black – each Color 2,700 at 5%
coverage
Condition: Remanufactured
Status: In stock. Usually ships same day.
Warranty: One Year Money-Back Guarantee
Through purchasing
this set of HP 312A Toner Cartridges, printer users can save money as
these remanufactured cartridges were priced lower than brand new (OEM)
cartridges. Furthermore, buying and using these laser toner cartridges will not
void your printer's warranty. All our remanufactured toner cartridges are
offered with 1 Year Money Back Guarantee. Free Shipping
on all orders $100+ within the continental USA.
crazyinkjets also prides itself as a
participant of Google Trusted Store and how we have been
consistently rated to ship out 99% of all orders on time. Our premium laser
toner cartridges paint the smallest details of your graphic designs and present
the same kind of smooth color transition the master graphic artists are looking
for.crazyinkjets.com is
your reliable online provider of quality affordable toner cartridges making them
ideal replacement cartridges for your laser printers.